Exploring Apollo Bay on the Great Ocean Road
Apollo Bay, Victoria 3233
Apollo Bay is one of the most picturesque seaside villages in Australia. Tucked away in the foothills of the incredible Otways, the bay is a haven for water lovers and adventure travellers.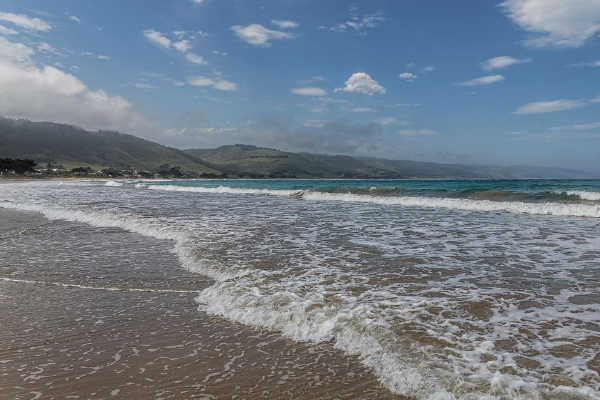 As well as acting as the perfect base for day trips to the Twelve Apostles and the Otway Ranges, Apollo Bay has some gems of its own for visitors to explore.
So, what's on offer at one of the largest towns along the Great Ocean Road, you might be wondering. Well, when you combine the coastal location with the bohemian vibes the locals add to the mix, you're left with a range of activities for the whole family to enjoy. A mix of lively pubs, beaches, arts and crafts store and entertainment to last you well into the evening.
This stretch of coastline is famed for its rugged scenery and incredible natural wonders, and Apollo Bay marks the perfect place to start exploring. Its location halfway along the Great Ocean Road means you can expect stunning seascapes, including sprawling beaches and endless shimmering waters. If you're in the area, keep your eyes peeled for the eclectic selection of native flora and fauna, too.
Things to do at Apollo Bay
Discover the Coast at Apollo Bay

Visitors are welcome to try out the range of watersports on offer in the village, of which there are plenty to get stuck into. Throughout the area, there are plenty of opportunities to swim, dive, surf, and paddle in the warm, clear waters of the southern ocean. Whether you're looking to try your hand at kayaking or surfing, or whether you're eager to dive down and explore the depths of the beautiful ocean, Apollo Bay accommodates all levels of watersports enthusiasts.

The area is famed for its local wildlife, too, with a popular colony of seals that call it home. If you want to get stuck into the action like a local, you can go deep-sea fishing with local fishermen to learn more about this ancient trade.

Apollo Bay is part of the traditional lands of the King Parrot People, also known as the Gadubanud and today are succeeded by the Gunditjmara people who are acknowledged as the traditional custodians of the land.

Enjoy Apollo Bay's Land Adventures

If you feel more comfortable on dry land, then fear not! Apollo Bay plays host to a collection of activities, both active and cultural. You can horseback ride along the beachfront, admiring the incredible scenery, or duck into the numerous artisan shops that line the shore. Art lovers will be in heaven with the range of galleries nestled in the bay, and there are plenty of tea houses peppered around. At the weekend, Apollo Bay opens its arms to craft lovers with its open-air market. Here, you'll find stall upon stall piled high with local artwork, antique curiosities, and local produce.

Fresh Seafood at Apollo Bay

Consider dinner sorted, too, with a delicious menu of seafood restaurants that serve up freshly caught fish.

Thanks to its status as a traditional fishing village, Apollo Bay is renowned for its dedication to seafood, and there's even a festival that caters solely to this cuisine in February. For music lovers there's the Apollo Bay Music Festival in April, which is one of Victoria's biggest events.

Mountain Hikes and Waterfalls Inland at Apollo Bay

Set back from the shorefront, Apollo Bay has a wealth of rainforest landscapes. Drive out into the surrounding Otways and discover Australia's oldest wildlife, as well as a smattering of picturesque waterfalls and fern gullies. This peaceful part of the region is packed full of walks, taking you through ancient rainforests and alongside pretty streams.

Just explore a few kilometres inland and you'll be party to trickling streams, magical waterfalls, and the mystical glow of forest fireflies. Keep a look out for native glow worms at Melba Gully, and try and spot the elusive platypus and Lake Elizabeth while you're there.

The surrounding Otways are home to Australia's oldest lighthouse, one of Apollo Bay's best attractions, as well as a tangle of hiking trails perfect for mountain biking. For the adventurous travellers, there's the Otway Fly, a treetop walk that proffers spectacular views of the scenery below. If you're lucky, you might catch a glimpse of a koala along the way.

Marengo Reefs Marine Sanctuary

This marine sanctuary protects over 12 hectares of water, beginning 150 metres off the shore near Apollo Bay. It protects the Little Henty Reef System, and in it, an abundance of sea life such as abalones, sea snails and urchins. Seals also populate this area which has a wide area of sea to cultivate all different type of marine life in the inner and outer reefs. It's one of Apollo Bay's best keep secrets and only a couple kilometres away from the city centre.

Shelly Beach Circuit Walk

This circuit trail is perfect for families as it's one of the most scenic walks on the Great Ocean Road and will only take around 45 minutes to complete. This easy walk begins at the Shelly Beach picnic area and takes you across the beach to the rocky terraces of Elliott River.

Great Ocean Road Brewhouse

Centrally located in Apollo Bay, this brewhouse has 100 craft beers on offer from their line as well as their sister company Otway Brewery. Developments to the brewery have recently included a tasting room called Tastes of the Region where you'll be able to sample locals beers with an added cheese and dips platter. Apart from an onsite bistro, there's also a bar that serves up 14 beers and 1 cider on tap. You can even stay a night there at their budget-friendly accommodation upstairs in one 8 heritage rooms.